Corporate Team Building Activities
Wondering what to do for your company outing this year.  Looking for corporate team building activities or ways to keep staff active and reward them; our group surf lessons package is a great option.  With limited options for groups during Covid, surfing is a great alternative for your group.  On the beach instruction will take place at a safe distance.  Distancing in the water is easy as it's difficult to be within 6 feet of one another on a surfboard.  Surfing with coworkers is guaranteed fun and a great way to bond with your staff.  In addition to getting everyone active it keeps everyone outside and safer during Covid while maximizing the fun factor.  Host your next board meeting on the water with us!
Most Common Corporate Team Building Activities
Scavenger Hunt
Human Knot
Blind Retriever
Group Juggle
Active Listener
Group Timeline
Paid Up
Perfect Square
Two Truths, One Lie
These team building activities are popular as they can be done anywhere, including inside.  Your team may love or hate these; while surfing is an activity they're more likely to uniformly enjoy.  Now our recommendation to add surfing is obviously based on where you're located.  If you are around a coast that has waves like California or Florida why offer the ordinary when you can do something unique for your group.  SURFING!!
Table of Contents
Corporate Team Building Activities
Why Chose Santa Barbara Surf School for corporate team building activities
Surfing can energize your staff
How will surfing promote Team Building
What are the Characteristics of Team Building
Why invest in surfing as part of your corporate team building activities
Why choose Santa Barbara Surf School for our corporate team building activities?
We operate 7 days a week and can host anytime of day for groups to accommodate your schedule.  We've been teaching for 20 years and have the experience to make your surf lesson safe, memorable, and a blast.  Our experience includes taking large groups like Nike, Verizon, AT&T, Big Bear Resorts, and Goldman Sachs out on the water.  If you'd like to make a day of it, we can take up to 40 clients at once with three to four sessions a day.
Surfing can energize your staff
It is no secret to improve your cardiovascular health you must exercise and surfing provides a full body workout.  Paddling works your arms, back, lats, and shoulder.  Surfing and egg beating your legs when sitting on the board you'll work your lower extremities.  Your core is engaged anytime you move on the board finishing off that full body workout.
Sustainable Workout
Mix in the fact surfing is enjoyable and much easier to sustain then going to the gym so you're likely to exercise longer.  The bonus is the rush of endorphins you get from both riding the waves and paddling through them.  Lastly there's something special about being out in the water and in the waves that leave surfers yearning for more.  Maybe it's the solitude, or the perspective sitting in the ocean gives, or the dolphins swimming around you.  All of this leads to great corporate team building activities that are sure to leave your staff feeling energized and excited.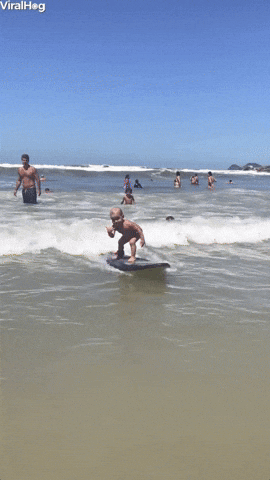 How will surfing promote Team Building?
You might be asking yourself, "How can spending the day playing in the water with my team or group actually increase our bond?". Well, coworkers get a chance to know each other outside of the office in a fun and safe setting.  We've had companies that work side by side daily to others that work mainly remotely.  Regardless of how connected your team is, enjoying a bucket list item like surfing is sure to strengthen that bond.  They'll be cheering each on while experiencing the shared vulnerability of learning a new skill.
What are the Characteristics of Team Building?
Characteristics companies work on to make their teams more cohesive are: goal setting, communication, responsibility, dedication, and delegative leadership.  And while surfing may not make your team better at all of these characteristics it can help with communication and goal setting.  Each student can set their goals for the lesson and dedicate themselves to accomplishing that goal during the lesson.  This might be something as small as standing up on the board or cheering a coworker on, or to enjoy yourself with your coworkers.  You'll want something small and tangible as the lesson is only 1.5 to 2 hours depending on group size; baby steps here.  We're dedicated to helping you achieve all your personal surfing goals.
What is our goal?
Santa Barbara Surf School's large group surf lessons makes the goal clear: learn how to surf and have fun.   However, we don't stop at goal setting! Our instructors will lead you through how to read the waves, stay safe, practice proper surf etiquette, and demonstrate how to stand up. You will also learn proper spacing between team members and how to maintain a proper rotation in the lineup.   Each student will receive some one on one coaching so they know when and where to act. With clear goals, these corporate team building activities makes it easy for employees to connect their personal goals of the day to their larger team goals.
How will group surfing encourage communication? 
Our instructors will check in with students after each demonstration to ensure their understanding.  We'll encourage collaboration by praising success with cheers and embarking on "party waves"(when multiple people ride the same wave and share the stoke).
Team members are encouraged to inquire about anything they need further clarification on, as communication is key to a high achieving team. Upon request our instructors can emphasize any specific themes pertaining to the group. The school is strapped with high-quality equipment and experienced staff to make your experience one for the books.
Why invest in surfing as part of your corporate team building activities?
We really can't emphasize this enough, making and achieving team goals in a physical way translates to improved work performance in the office.  At some point everyone gets caught up going through the motions of daily life.  We often lose crucial energy needed to support team motivation. Our surf package for corporate team building activities generate healthy competition among team members. By experiencing the triumphant achievement of riding a wave, the vitality generated is transferable to the work or homeplace. Increased competition leads to increased productivity.
What will you learn?
Our corporate and group surf lessons are tailored to be both informative and loads of fun. We mimic larger group systems whether that be at the family, friends, or corporate levels in a way that emphasizes the key characteristics of team building. Dr. Bruce Tuckman's model of forming, storming, norming and performing will help you and your team perform at your highest potential. Picture this, it's a hot sunny day and you are out catching some waves with some coworkers, friends, or loved ones. Having individual surf lessons is quite the experience, but sharing this moment with others makes the experience tenfold.
More on the Tuckman Model
The Tuckman Model can be applied to the shape of our group/corporate lessons and how we teach. Our team at Santa Barbara Surf School has found success in strengthening our own team utilizing this model. By revealing the stages to you and your team, we want to help you become even stronger by learning these skills.
Stage 1: Forming; a strong leader is essential. We assure you that our instructors have the knowledge, skill, experience and care required to answer all your questions and settle your uncertainties. We will make clear the rules and objectives immediately upon your arrival at the beach. Our instructors are committed to teaching you the ins and outs of surfing, keeping you safe, and being your leader.
Stage 2: Storming; in this stage, team members do the "figuring out". We urge you to trust that we have gone through years of improvements and refinements to present you with the most efficient and quality service due to this stage. After we establish the rules and instructions on the beach, it may still seem chaotic to go head first into the water with a large group. Our instructors are committed to keeping you on track and to giving you all the help you need in the water.
Stage 3: Norming; the group leader makes big decisions as agreement and consensus form among the team. At Santa Barbara Surf School, our effective communication with one another and with your team's group leader allows us to deliver a smooth lesson with short transitional periods.  You really get the most out of your time.
Stage 4: Performing; your team is strategically aware and know what to do. Our team is ready to perform and give you the best lesson you could imagine due to our success in completing the prior three steps. As for your team or group, successful performance in stage four means that you're up and riding!
How long does our corporate/group lesson last?
For large groups the classes run for 1.5-2 hours but can be longer if the client prefers.  We have experience hosting a variety of large events ranging from bacheor(ette) parties, to big family groups, and even multi-day corporate events.
What should we bring?
All you and your group will need to bring with you are your bathing suits. We will provide the wetsuits and surfboards and a map that pinpoints all the best 'Surf Locations' in our vicinity. We are capable of providing drinking water if requested at the time of booking.
Price Rates
We'll take any size group out; 1 student and up to 40 at a time. Though the rates may vary, both groups will get to experience the same hands-on approach.
Group Rates – $65 pp
Conclusion
No matter the type of event you are planning, at Santa Barbara Surf School, you get value for your money.  The inclusion of surfing in your corporate team building activities will be geared towards fun and of course team building skills. Through experience, goal setting, and active communication, we aim to exemplify the success of these characteristics within our own team in order to influence your team to do the same.  Engaging in healthy competition, and achieving the triumphant feeling of riding a wave will leave your team energized.  From our positive and well-trained instructors to the fun tailored lessons, your event will be a success. We are always happy to customize the lesson for your specific group in order to make your experience everything you could hope for.
So what are you waiting for? Make your reservation and get ready to have a blast here at Santa Barbara Surf School.